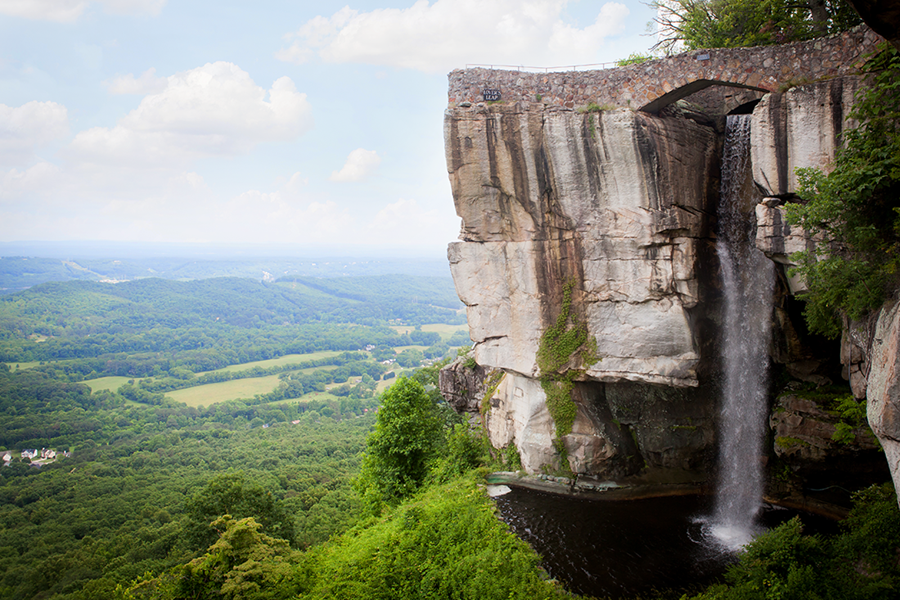 I remember driving through parts of Tennessee and Georgia and maybe West Virginia when I was a girl and seeing signs on barns that said "See Rock City". I don't remember ever seeing Rock City, though! On Tuesday afternoon, Steve & I took the girls to see "a true marvel of nature featuring massive ancient rock formations, gardens with over 400 native plant species, and breathtaking "See 7 States" panoramic views". It was my favorite part of our trip to Chattanooga.
I'm not really sure how to even describe this place to you except that it has to be one of the most ingenious, odd places I have ever visited (except for perhaps the Blarney Stone but that's another story for another day). It's like a combination of amusement park, a national park, a roadside attraction, and the food court at the mall. It. was.awesome!
I loved the history of this place. In the late 1920s, Freda Carter started started marking the paths through her family's Lookout Mountain estate with string. She brought in local plants and gnomes (read about those later). Her husband, Garnet Carter, realized that her plants and the natural beauty of the place, would be a spot others would like to visit. In 1932, in the midst of the Great Depression, Rock City Gardens opened to the public. Garnet Carter, in my opinion, was a marketing genius. He started painting See Rock City on barns all around the south, enticing visitors for decades. I love a great American success story!
You start your tour of Rock City on a terrace with a gift shop, a fudge confectionary, and a food court. We ate there because, well, it was our second tourist attraction of the day and everyone was getting a bit grumpy by the time we hit the park(?) city(?) garden(?). If I had it to do over again, I think I would wait and eat at the restaurant that was at the top of Lovers Leap, but then only half of my family would have had lunch, so that probably wouldn't work. Anyway, the food court was decent but nothing foodie worth; the spot at the top looked more promising or it could just be that I was so thankful to still be alive after making it to the top that all food sounded like ambrosia.
After lunch, we started through the park. It was like being in some kind of prehistoric, druid-influenced place. The rocks are really impressive and walking between them and seeing native flowers was just fun. And the fact that the rocks made the summer heat cooler; that was a definite bonus.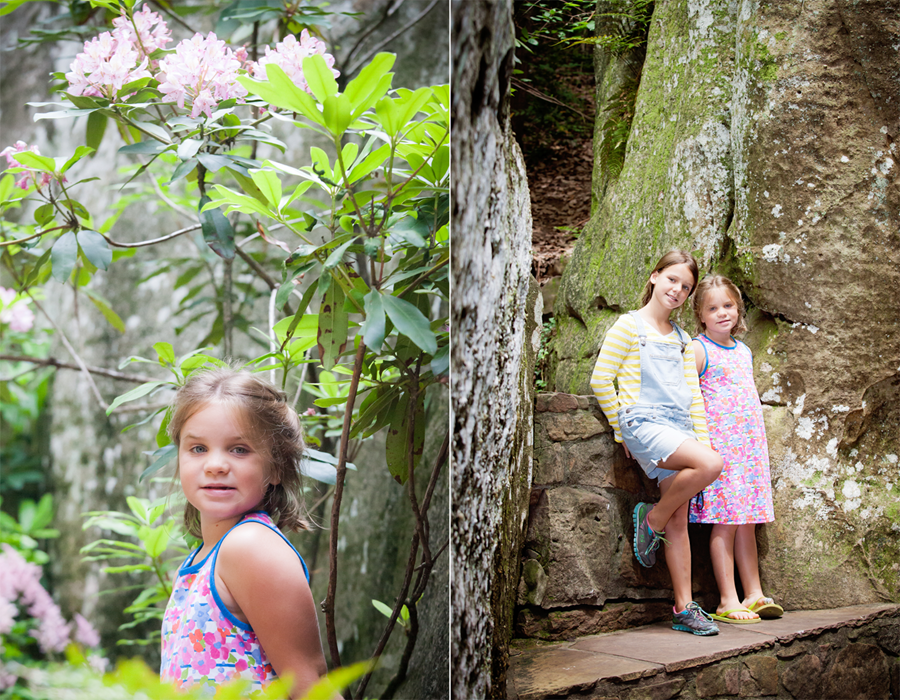 As we were walking through the rocks, Steve noticed that there were several stone bridges overhead and after a few more minutes of walking, we were getting higher and higher up the mountain and there were fewer and fewer rocks on either side of us. You can see in the picture below that Gracie is starting to look a little bothered by the height. What you can't see is that there is a thirty-forty foot drop just over the side of the bridge.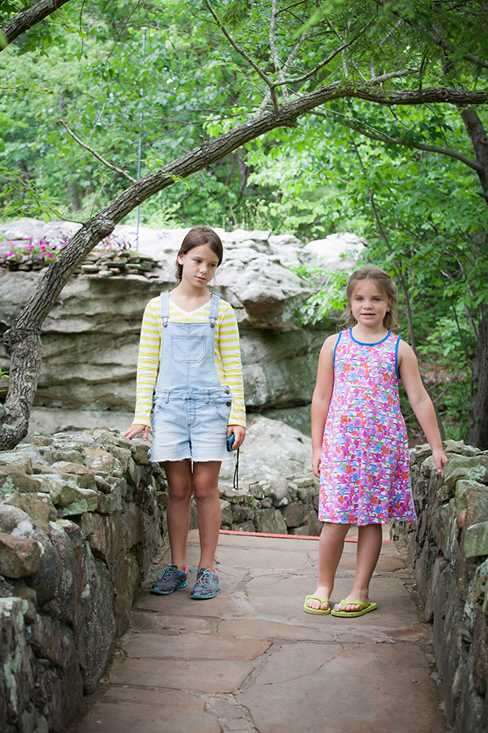 Here's what you need to know: if you have a fear of heights, this might not be the outing for you. If you have a small, adventurous child, there are parts of the park that you might want to avoid. I can not imagine that I would have brought Abigail three years ago. Gracie? Probably so – she's always been cautious and would have been more prone to listen when I told her to stay away from the edge. Three years ago Abigail would have been standing on the side of the bridge, leaning over. Just a word of caution from a helicopter mom. Anyway, not long after I took the picture above, Steve and Gracie decided that were as high up as they wanted to be and they headed back down to tour the Fairyland caverns. Abigail and I decided that we really wanted to get to the spot where we could see seven states so on up the mountain we went. We had a choice to take either a stone bridge or a swinging bridge.

The swinging bridge won and Abigail is now a fan of swinging bridges. Expect pictures next year of her swinging her way through the Amazon. I'm not sure I was such a fan, particularly when we got to the other side and I noticed a couple of the board were starting to rot. But, we made it! From the end of the bridge, it was only a little way up to Lovers Leap (where, legend has a spurned lover jumped to his death, taking his object of affection with him – well, you know how legends go). I took the picture at the top of the page from on of the observation decks just below the highest point. We finally made it to the top! A tourist snapped this picture of Abigail and me – can you see my death grip on my baby?

It was breathtaking (and okay, a little hear-stopping). I'm really glad we went all the way to the top, though. Hopefully, it is something Abigail will be able to remember in her teen angst years – that I was cool enough to hike to the top of a mountain with her (and didn't let her fall off the side) We did see seven states – or at least the sign says we did – I'm not sure how you'd tell one state from the other!

After that, Abigail stood under a 1000 ton balanced rock. Pretty cool, but again, slightly off-balancing (get it?)

Then, things took a turn for the odd. We visited the Fairyland Caverns –

which was like the It's A Small World ride (without the ride) with gnomes. Lots and lots of gnomes. It was dark and there was some type of black light in there that made everything glow. Definitely added a little creep factor, but you know, maybe that's what makes this a Roadside Attraction.

Once we finished our tour of the slightly creepy caverns, we met Steve & Gracie back at the entrance and, of course, toured the gift shop, which we escaped relatively unscathed. On the way out, Abigail got her very own See Rock City sign…maybe not as pretty as the signs of yesteryear, but definitely tastier!

I would definitely recommend Rock City to anyone looking for a unique way to see Lookout Mountain. Here's the details:
Cost: We paid $149.60 for all four of us for the Incline Railway, Ruby Falls, and Rock City which I think is the way to go. Individually, Rock City is $19.95 for adults and $11.95 for children 3-12
Hours: Rock City opens at 8:30 a.m. – closing times vary on the season.
More information: http://www.seerockcity.com/